Rupp Seeds Is GAP Certified
March 4, 2019 | By Rupp Seeds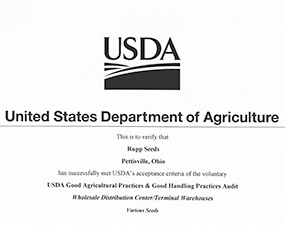 Food safety has been an increasing concern over the last number of years. Consumers want the assurance that their food is safe to eat and free of potentially harmful pathogens.
As a supplier of seeds to the food chain, we chose to do an audit with the USDA. We are pleased to announce that in October of 2018, Rupp Seeds received notice that we have successfully met the USDA's criteria for Good Agricultural Practices and Good Handling Practices Audit.
The Good Agricultural Practices (GAP) and Good Handling Practices (GHP) are voluntary audits that verify that fruits and vegetables are produced, packed, handled, and stored as safely as possible to minimize risks of microbial food safety hazards. GAP & GHP audits verify adherence to the recommendations made in the U.S. Food and Drug Administration's Guide to Minimize Microbial Food Safety Hazards for Fresh Fruits and Vegetables and industry recognized food safety practices.
Learn more about GAP and GHP on the USDA website.

Rupp Seeds USDA GAP Certificate