Safety Around Grain Bins
March 4, 2021 | By Rupp Seeds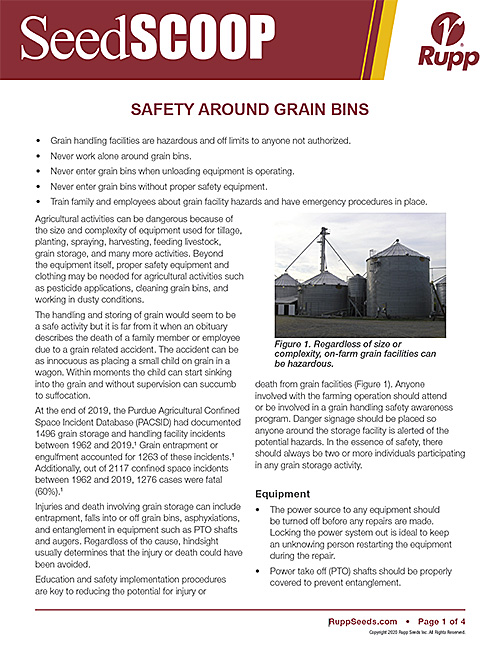 The handling and storing of grain would seem to be a safe activity but it is far from it when an obituary describes the death of a family member or employee due to a grain related accident. The accident can be as innocuous as placing a small child on grain in a wagon. Within moments the child can start sinking into the grain and without supervision can succumb to suffocation.
Injuries and death involving grain storage can include entrapment, falls into or off grain bins, asphyxiations, and entanglement in equipment such as PTO shafts and augers. Regardless of the cause, hindsight usually determines that the injury or death could have been avoided.
Never work alone around grain bins.

Never enter grain bins when unloading equipment is operating.

Never enter grain bins without proper safety equipment.

Train family and employees about grain facility hazards and have emergency procedures in place.
We encourage you to stay safe when working in, on, and around your grain bins. Learn more about the dangers and precautions you can take in this issue of SeedScoop.

Safety Around Grain Bins