Quality and Appearance of Soybean Seed
February 24, 2021 | By Rupp Seeds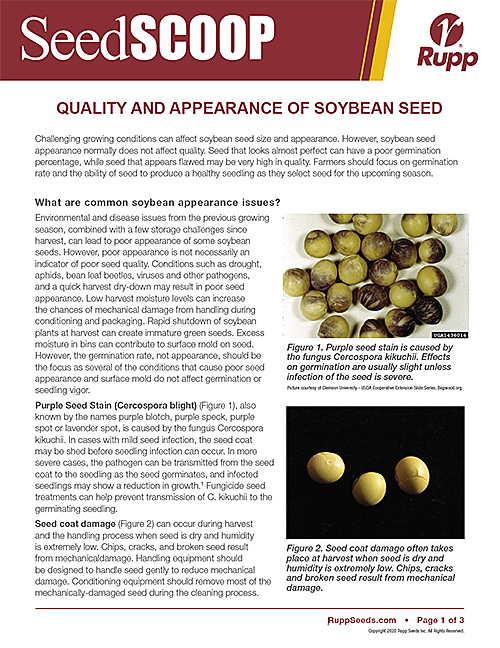 Challenging growing conditions can affect soybean seed size and appearance. However, soybean seed appearance normally does not affect quality. Seed that looks almost perfect can have a poor germination percentage, while seed that appears flawed may be very high in quality. Farmers should focus on germination rate and the ability of seed to produce a healthy seedling as they select seed for the upcoming season.
Some common soybean appearance issues are: Purple seed stain (Cercospora blight), seed coat damage, green coloring, bleeding hilum. Read more to learn about these issues and to see photo examples.
You can give all of your soybeans a boost by utilizing our Liftoff seed treatment. Liftoff seed treatment is early-season crop insurance, protecting your soybean seeds and improving emergence. Doing so, provides a uniform stand which is crucial for your crop's success. Rupp brand soybeans come treated with Liftoff Stage 2 which includes a select blend of; fungicides, insecticides, select biologicals, and inoculants. Ask your dealer or DSM about Liftoff and give your soybeans a boost.

Quality and Appearance of Soybean Seed