Managing Soybean Disease
January 31, 2020 | By Rupp Seeds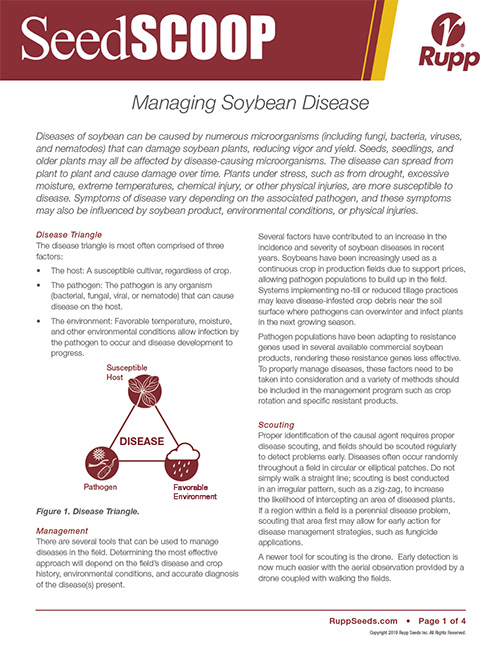 Diseases of soybean can be caused by numerous microorganisms (including fungi, bacteria, viruses, and nematodes) that can damage soybean plants, reducing vigor and yield. Seeds, seedlings, and older plants may all be affected by disease-causing microorganisms. The disease can spread from plant to plant and cause damage over time. Plants under stress, such as from drought, excessive moisture, extreme tmperatures, chemical injury, or other physical injuries, are more susceptible to disease. Symptoms of disease vary depending on the associated pathogen, and these symptoms may also be influenced by soybean product, environmental conditions, or physical injuries.

The following are elements to managing soybean disease:
Disease Triangle
Management
Scouting
Soybean Product Selection
Crop Rotation
Seed Treatments
Tillage
Row Width
Planting Date
Seeding Rates
Field Disease History
Soil Testing for Soybean Cyst Nematode
Read more about how each of these elements can help you manage soybean disease in this issue of SeedSCOOP.

SeedSCOOP - Managing Soybean Disease