Effects of Sidewall Compaction on Corn Seedlings
April 27, 2021 | By Rupp Seeds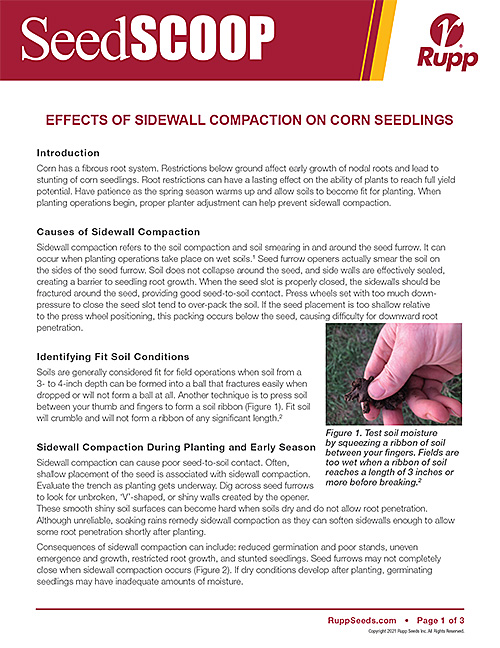 Corn has a fibrous root system. Restrictions below ground affect early growth of nodal roots and lead to stunting of corn seedlings. Root restrictions can have a lasting effect on the ability of plants to reach full yield potential. Have patience as the spring season warms up and allow soils to become fit for planting. When planting operations begin, proper planter adjustment can help prevent sidewall compaction.
Sidewall compaction refers to the soil compaction and soil smearing in and around the seed furrow. It can occur when planting operations take place on wet soils. Seed furrow openers actually smear the soil on the sides of the seed furrow. Soil does not collapse around the seed, and side walls are effectively sealed, creating a barrier to seedling root growth. When the seed slot is properly closed, the sidewalls should be fractured around the seed, providing good seed-to-soil contact. Press wheels set with too much downpressure to close the seed slot tend to over-pack the soil. If the seed placement is too shallow relative to the press wheel positioning, this packing occurs below the seed, causing difficulty for downward root penetration.
In this issue of SeedScoop, you will learn; how to identify fit soil conditions, sidewall compaction during planting and early season, effects during the growing season, and machinery settings to reduce sidewall compaction.

Effects of Sidewall Compaction on Corn Seedlings