Effects of Flooding on Corn Emergence and Young Corn Plants
April 27, 2020 | By Rupp Seeds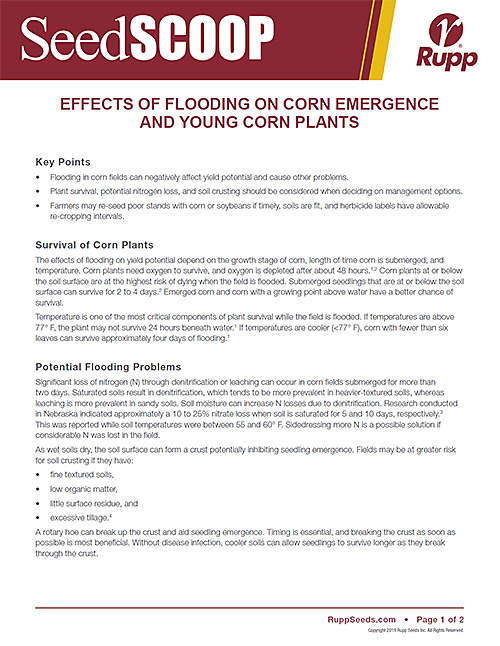 If your recently planted or emerged corn field floods; assess the damage and prepare for additional management once the water recedes.
The effects of flooding on yield potential depend on the growth stage of corn, length of time corn is submerged, and temperature. Corn plants need oxygen to survive and oxygen is depleted after about 48 hours. Temperature is one of the most critical components of plant survival while the field is flood. The length of time corn plants can survive underwater goes down dramatically as temperatures rise above 77 degrees.
Additional potential flooding problems include the loss of nitrogen through denitrification or leaching and soil crusting.
In this issue you will learn:
How seedlings survive a flood
How to scout your field once the water has receded
How to estimate nitrogen loss
How to manage soil crusting
Replant options
Read more in this issue of SeedScoop.

Effects of Flooding on Corn Emergence and Young Corn Plants