Rupp Seeds Doubles Down on Vegetables, Divests Grain and Forage Business
Many of you are already realizing success on your farm with Rupp products and have a trusted advisor relationship with a Rupp seed rep. Thank you for your business and the loyalty you've shown to Rupp Seeds.
We recently sold our grain and forage seed division to Rob-See-Co, of Elkhorn, Neb. This move provides us with the opportunity to focus our investments and research efforts entirely on our vegetable seed business going forward. When we began considering this change, it was an exercise we didn't take lightly. After more than a year of careful consideration, Rob-See-Co rose to the top as the perfect fit.
Both Rob-See-Co and Rupp Seeds are family-owned companies with long histories in the seed business. We share similar cultures and value customer relationships. Rob-See-Co has access to information, products and efficiencies that we haven't had on our own, which we believe will be a benefit to our customers.
Rob-See-Co has hired our product management and sales personnel and is continuing to partner with our Rupp seed dealers. We are excited for the career and sales growth opportunities they all will have with Rob-See-Co.
Again, thank you for your loyalty to Rupp Seeds, and we encourage you to carry your relationship with us forward to Rob-See-Co. We're confident you'll find your relationship with them to be beneficial in many ways in your farming operation.
You'll continue to find information on Rupp products and trial results on this website through the rest of this sales season. To learn more about Rob-See-Co, click their logo below. And to learn more about our future plans, click on the Press Release button below.
About Rupp Seeds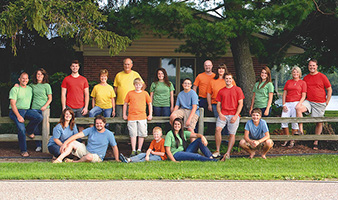 Our roots as a company began on a diverse family farm owned by Grandpa Sylvan and Grandma Pearl Rupp. With the help of their seven children, they produced corn, beans, popcorn and strawberries along with cattle and hogs, which was pretty typical of the traditional family farm in the mid-1900s.
Grandpa Sylvan's interest in farming was clearly demonstrated in one of our family heirlooms he created during grade school—a book of detailed, hand-drawn sketches of plants he found on the farm. This interest led him to start the "Sylvan L. Rupp Seed Farm" in 1946, which began by selling hybrid corn seed, along with producing and marketing public soybean, wheat and oat varieties to area farmers.